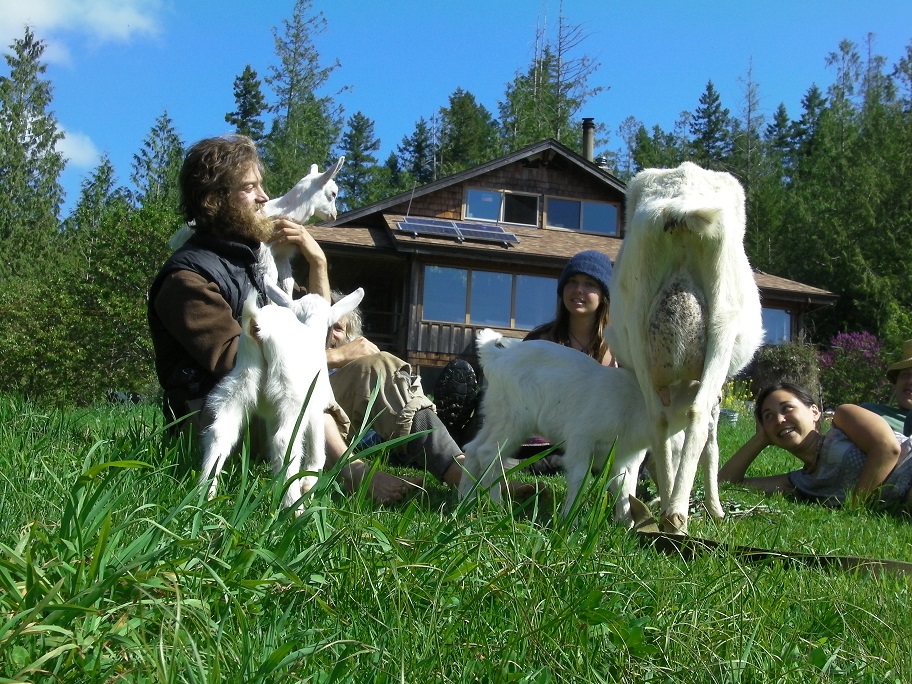 What is farm-sharing?
As we nourish dreams of living in community with others, sharing in the work and pleasures of the farm, and being linked into the greater community of Cortes Island, we have come to build unique relationships with those living at Blue Jay Lake Farm on a long-term basis. Rather than WWOOFing (living here in exchange for working on the farm), some members of our community live in our rental homes on our property with a farm-sharing arrangement.
Farm-sharing households produce or otherwise provide their own food, share in the stewardship of the land and farm as a contribution to their tenancy, and have the opportunity to partake in existing farming activities or try out some of their own. We are not offering a job – we are talking about a lifestyle. There may also be opportunities for making money while living on the farm, but these would come from your own initiative.
Why do we want to share the farm?
We want to live and work with others who are interested in making similar lifestyle choices simply because it enriches our lives. It brings knowledge, energy, interest, opportunity to try new endeavors, fun and a sense of community that is appreciated as we are somewhat isolated from the larger Cortes community. We also love Blue Jay Lake farm and are happy to farming happen on the land. Since we have switched to farming mainly for subsistence rather than for production, we don't require as much land to meet our needs – sharing the land and infrastructure is a way to make farming and a rural, natural lifestyle accessible to others who also love it.
The infrastructure for farming activities at Blue Jay Lake already exists – greenhouses, garden supplies, irrigation systems, fencing, a barn, livestock, fields, sheds, workshops, etc. If we have additional community members partaking in maintaining that system and producing enough yield for everyone, it is less work for each person, and hopefully more enjoyable to work alongside others. Also, with more households sharing the farm, it becomes possible for each to take a break, enjoy an evening away from the farm, or even take a vacation.
How does it work?
Sharing the farm is something that evolves over time with each new household. As a farm community, we would like each person to contribute in the way that they enjoy, are skilled at and also supports the needs of the farm. One person might like traipsing through the bush fixing the telephone line or maintaining trails; another might really like selling extra produce at the Farmer's Market, or working with the animals. Potential farm-sharing households should bring concrete ideas to the table as a starting point so that we can outline a clear arrangement which can be realized.
A Day a Week Commitment
One day of the week would be set aside for the benefit of the farm. This is intended to be the input of each adult in your household – children are welcome to learn through participation, or can often play nearby. This day per week would be put toward farm maintenance and enhancements. It could involve working on the driveway, maintaining the telephone line, trail clearing, farm building repairs and maintenance, or any variety of activities. Time spent in the garden, orchard, and working with the livestock to share in their bounty are in addition to this day a week.
Sharing in Farm Endeavors and Bounty
There may be possibilities to share in many of the activities and yields of Blue Jay Lake farm, including:
- Vegetable gardens
- Fruit tree orchards
- Dairy (cow and goat)
- Laying hens (eggs)
- Beef and pork
- Farm vehicles



Specific arrangements for sharing in any of these activities are set up as we get to know each other and work together. You may contact us for a sample of what these farm-sharing activities often look like.




Other aspects of farm sharing at Blue Jay Lake




Timing: Ideally, the new farming season starts each winter, and we would like people to commit to at least one year. The school calendar does not coincide with the farm calendar, and we realize this may need to take priority.




Rent: The rental money is required to help pay for the development and upkeep of buildings, contribute to the cost of utilities, and contribute to property taxes.




Firewood: Most buildings at Blue Jay Lake farm use wood stoves. For environmental reasons, we require you to burn dry wood. It should be cut by the end of March for the next winter, at the latest, though preferably one year in advance. Firewood is gathered on your own time, and with your own equipment. We could trade sawmill slab firewood for help at the sawmill. If you are renting a home at Blue Jay Lake farm, the woodshed will already be stocked for the coming winter: you are required to purchase that wood and will be reimbursed when you replenish it for the next year.




Utilities: Farm utilities (water, electrical, telephone) require careful management and maintenance. We expect that you use them carefully and contribute to the maintenance when required (labour for utilities' maintenance is included in your day-a-week commitment)




Driveway: Our driveway is 3 kilometres long, and needs to be maintained by those living on the farm. We use it as little as possible. If you need to leave the farm regularly, you either need to spend more time maintaining the driveway, or use a bicycle to get to and from your vehicle. Children attending school need to walk or bicycle this driveway every day to get to the bus stop. Labour for maintenance of the driveway is included in the day-a-week commitment, and there is also a small per-use fee for residents to cover monetary costs of maintaining the driveway.




Contact us to learn more about availability of farm-share arrangements at Blue Jay Lake farm or for details on the above.