Our production of fruit and vegetables, dairy, eggs, meat and farm products mainly support the vitality of those living at Blue Jay Lake Farm, though we do offer some products for sale.
Please contact us for more information, availability, prices and ordering.
Forest Products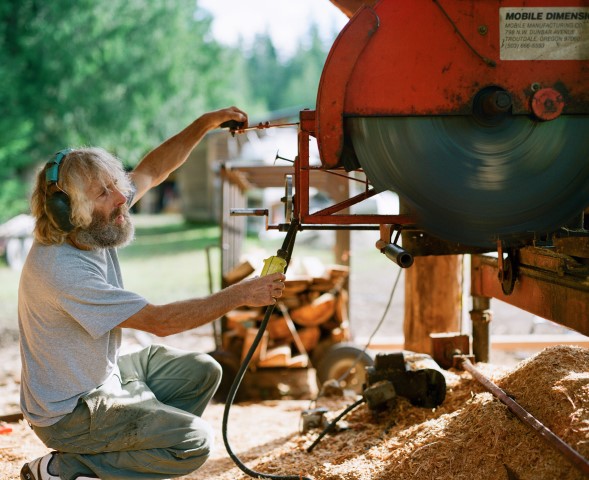 We are pleased to announce the availability of lumber from our own sustainably managed forest as well as other Cortes-harvested lumber. Our vision is to supply locally grown and milled products at competitive prices, while maintaining, as naturally as possible, a mixed variety and age of trees within a healthy ecosystem.
We can supply locally harvested and milled wood for your entire house: framing, decks, siding and finishing. All of our lumber is accurately milled on our dimensional sawmill. Lengths are to 26' and widths to your specifications. We may be available to mill logs that you supply, depending on our schedule.
Hemlock – for framing and finishing, economical lumber at prices comparable to town.
Fir – best quality framing wood.
Clear Fir – top quality finishing wood for trim, flooring, stairs, doors.
Alder – an economical hardwood for kitchens, floors, etc.
Cedar - siding, decking, interior paneling.
Salvage/Character Wood – rustic finishing wood at a lower cost.
Sawdust, Slabs, Firewood – occasionally available.
Garden Stakes, Lawn Edging – off-cuts for landscaping and gardening.

Off-cuts and scrap from the sawmill are periodically available for gleaning if you contact us to make prior arrangements.
Hay
Mulch hay is available at the end of August.
Please contact us for more information, availability, prices and ordering.
Eggs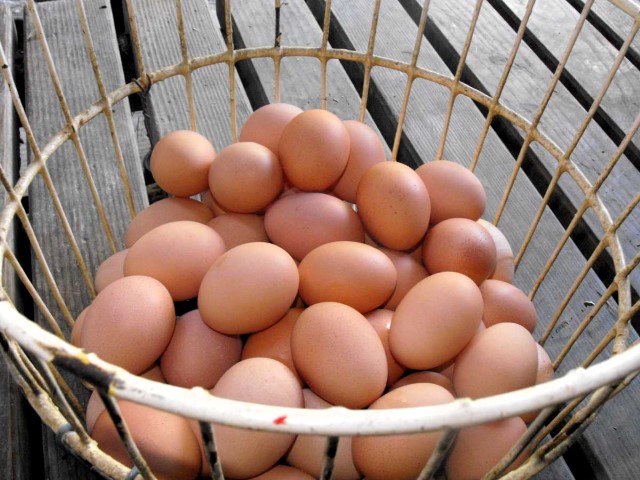 We have a small flock of free-ranging, organically raised laying hens. The birds are not caged and spend daylight hours outside of their roosting house grazing the barn yard unrestricted by fencing. They also eat non-GMO, organic feed to supplement their grazing and provide the minerals needed to support healthy egg production. Their eggs are rich and vibrant, testament to the health and happiness of our birds as well as the pride we take in maintaining the best animal care practices.
Our eggs mostly stay on-farm, but any surplus is available through the Cortes Natural Food Co-op.
Please contact us for more information, availability, prices and ordering.
Corn
We love corn! We love it so much that we grow way more than we can eat – which is a lot. From mid-August until late September we have organic, non-GMO corn available that is herbicide, pesticide and chemical-free.
Please contact us for more information, availability, prices and ordering.
Beef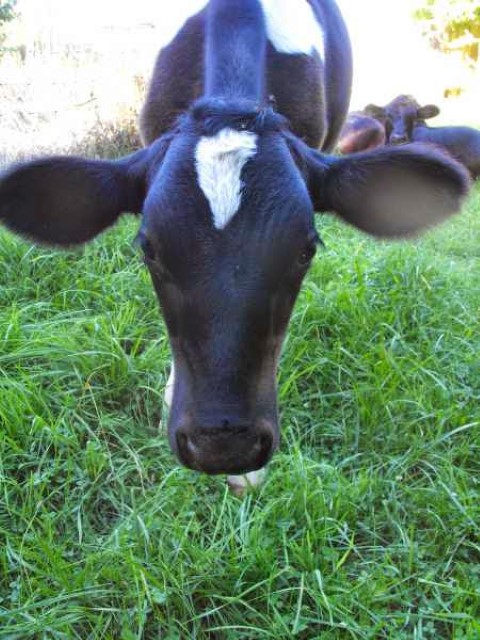 Each year we raise a small number of beef cattle for our own consumption and to sell. Our cattle range our fields in the summer feeding on native grasses. They are raised to organic standards with the exception of non-organic, local Vancouver Island hay that they eat only during their first winter when the fields are unavailable for grazing. Young calves are fed a small amount of organic dairy-cow feed when they are weaned (at least a year before slaughter). For the last six months, our beef cattle are exclusively grazing from our organic pastures (with a small supplement of organic corn stalks from our garden), not fed any grain or hay.
In the fall, when the weather turns cold, we take cattle into Gunter Bros Meat in the Comox Valley for slaughter and processing. Blue Jay Lake is also a licensed slaughter facility and we would be more than happy to slaughter a cow here if you (or a group of friends) want to butcher your own animal. Through Gunter Bros, our beef is available by the whole, half, and quarter, with cuts adapted to your preference. We have an information sheet about our beef cattle if you would like more information.
Other
From time to time we have new farm products available, please check back soon.
We also post on the Cortes community website, Tideline, when we have an abundance to share – particularly in the bountiful harvest times of late summer and fall.
Please contact us for more information, availability, prices and ordering.