History
Blue Jay Lake farm is a 300 acre property nestled in Green Valley in the heart of Cortes Island which was formerly an early 1900's homestead. We also acknowledge that the land is unceded traditional territory of regional First Nations. At the time the land was purchased by the Verschuurs in 1990, the only infrastructure (amongst an abundance of forests, fields, bluffs, swamps and three lakes) was a rough road leading towards Blue Jay Lake. The land has since been developed into a working farm with 30 acres of field, maintaining the vast majority of the land as wilderness. Blue Jay Lake farm now has a driveway, running water, phone lines, an alternative off-grid energy system (solar and hydro), gardens, orchards, greenhouses, rotational grazing fields, a barn, sawmill, 5+ homes and a number of outbuildings.
When our dreams were young, we imagined that we would like to become self-sufficient - learning how to use the land to sustain our needs. Now that our dreams have matured, self-sufficiency feels too isolating, and like far too much work! Now, we'd like to be community dependent: to live in community with others, share in the work and pleasures of the farm, and be linked into the greater community of Cortes Island.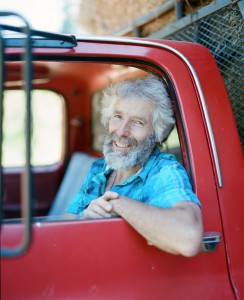 Henry Verschuur lives in the main farmhouse with his teenage children. There are also volunteers through the WWOOF and SOIL programs who live at Blue Jay Lake, and farm residents who either rent a home or participate in a farm-sharing arrangement.
Farm Life
Our production of fruit and vegetables, dairy, eggs, meat and farm products mainly support the vitality of those living at Blue Jay Lake farm, though we do offer some products for sale. We have a small herd of beef cattle, two milk cows and a milking goat, a flock of laying hens, a few pigs, ducks, and turkeys as well as two Border Collies. We have a number of vegetable and herb gardens, wild and cultivated berries, two acres of apple orchards, various other fruit and nut trees. We practice rotational grazing with our cattle as well as making hay for our animals and for mulch. The farm has a sawmill and we practice agri-forestry, as well as offering Cortes-harvested lumber for sale.
In maintaining a small-scale, diversified farm, we have made a lifestyle choice. While this type of farming cannot financially compete with the large, industrial, technologically specialized farms that are increasingly common, we prefer the simple pleasures of providing our own basic needs.
About Cortes Island
Cortes Island is between Campbell River on Vancouver Island and Powell River on the mainland. Cortes has a population of about 1000 people year-round and offers the basic amenities. With many summer homes, the population triples during the summer months. Generally speaking (though it is hard to generalize), Cortes residents are enthusiastic about taking care of the environment, community oriented, are spiritually minded, and are somewhat unconventional.